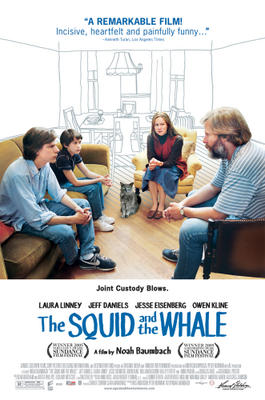 The Squid and the Whale
was one of our group films--for James, Dani, Jenny and me it was a bit of an event. I'm pretty sure we had only heard of Noah Baumbach from his writing credit on
The Life Aquatic
, but that was enough to guarantee our attendance.
The S&W plays a bit like a light Salinger short story, using the divorce of two literary parents to show the coming of age of their sons. Winner of the Dramatic Directing and Best Screenplay awards at the 2005 Sundance Film Festival, it's a wonderful character piece, following the four family members as their relationships diverge and repair. In turns mostly funny, we're endeared to the characters at the same time that we're shown their faults, a tough accomplishment, and one which makes the film feel both light and weighty (not surprisingly). It has a direct cinema feel to it, but still retains a sort of literary whimsy, a combination of shooting style (handheld 16mm), writing and life experience. It's autobiographical (something I was not aware of), and from the reactions of friends who have suffered from divorce, its sentiments ring true and clear. For me it was still a moving film, although perhaps a little more intellectual than visceral in the end.
I have to emphasize that I liked it very very much, and that the writing and performances were great, but I have to cringe and say that it left me a little cold;
understanding
the central analogy, but not feeling any strong revelation, surprise or satisfaction at its resolution. I felt like we were introduced to four stories, but ended with only two. I wanted to know the characters a bit better, see more of a transition for the mother Joan (Laura Linney) and youngest son, Frank (Owen Kline), their stories having cut off awkwardly. The climactic exchange between father Bernard (Jeff Daniels) and son Walt (Jesse Eisenberg) is the moment of true emotion in the film, and I think it's played wonderfully. Bernard is a complex character, honest and deceitful from one second to the next, and Walt's passage of clarity and courage is very well placed. Some scenes were a little weak though, relying on contreivances (like psychiatrists and sculptures), and I feel like some of the storytelling could've been more elegant. This is more of a concern near the end, where you really need the narrative to focus and guide the viewer's point of view; in this last section the filmmaking was a little verbose, objective and abrupt for my tastes.
But listen to me go on. That's nitpicking an excellent piece of work; this film severly kicks my ass. Please see it.
Interviews with Noah Baumbach at
New York Metro, and Movies Online
My second film of the night was
Gabrielle
, directed by Patrice Chereau. I had been introduced to his work through
Intimacy
, a film no one seemed to like but me
--
. I was surprised to learn this year about his extensive involvement in opera--something which was definitely reflected in this film.
Described in the Q&A as the story of an couple who forgot that they needed love, it was based on a Joseph Conrad short story called "The Return." Apparently short on dialogue, M. Chereau's adaption circumvents many of the limitations of the book, via the elegant introduction of events and secondary characters. He crafts an elegant, direct mostly two-handed drama that fully examines the motivations of both characters. It's told in an energetic style, bold and brooding; using film stock, colour and B&W, sets and staging, a swelling and silent musical score and title cards to help tell his story most clearly. Sort of a brave mix of period piece and music video. But don't get me wrong. Most of the film is straightforward and wrapped around the dialogue of our two leads, Isabelle Huppert and Pascal Greggory. They give intense, impassioned performances that polarize and switch, leading the film to its inevitable climax. It's not a pleasant journey, but the film certainly pleads a case against complacency and fear--both films tonight asking us to shed our neglect and detachment before it becomes too late.